Leave a comment
September 8, 2015 by positivelypeachie
So I just realized I am WAY behind on my book reviews. I've read 87, and I am just over a year shy of my deadline to read 300. Which means I either need to develop the ability to speed read over the next year, or I need to revise my goal! Either way, I am thoroughly enjoying this challenge and more than happy to "fail" at it, because I love to read and who cares if I really read 300 books. One of my favourite quotes is by George R.R. Martin:
Since I'm so behind…these will be very short reviews. Some I actually had to look up their plots because I couldn't even remember them …. sad, right? This post is also picture heavy because when it comes to book, I always judge a book by it's cover, so I want to share that with you because I really think it helps to paint the picture of what kind of novel it is:
Night Music – Jojo Moyes
I really enjoyed this book – not just because the author is a violinist. It's a pretty story, woven beautifully, with just enough conflict to keep you turning the page. It isn't my usual kind of book, but the fact that she played violin got me to buy it – and I am glad I did.
The Painted Bridge – Wendy Wallace
This book is about a genteel woman living in a home for mentally unstable genteel women….the synopsis intrigued me so much that I couldn't stop myself from buying it, and I am so glad I did. It is an interesting, thought provoking read and quite well written.  It's a page turner – once I started it, I just couldn't stop! So glad I picked this one up.
The House at Riverton – Kate Morton
Find me a Kate Morton book that I don't love! Fantastic – as always! The twists that Kate Morton can weave into her novels never fail to surprise, infuriate and addict me. She really is one of the best writers of our time.
Where I Went – Gayle Forman
I was disappointed in this book. It was not at all what I wanted, when I finished If I Stay. Neither books are really well written, but the story line of If I Stay made it a good book despite that. This one didn't hold that same appeal.
After Her – Joyce Maynard
What a book. I loved this book. I typically don't like mysteries – but this one had a little bit of everything I love in it. It's sad though, so be prepared to feel kind of low while you read it – but anyone who enjoys a good crime novel disguised as a coming of age drama will really enjoy this. Definitely recommend.
Here on Earth – Alice Hoffman
I didn't love it, if I'm being honest. It wasn't a bad read and I had no issues finishing it, but I just didn't love it. There were some parts that made me really uncomfortable…it was sad, strange and over all just unusual.
After the War is Over – Jennifer Robson
I enjoyed this book. It was very well written, well presented, and historically rich. It felt like I was really there, really with her, and I always appreciate that in a novel. It was lacking, though, as though the author had more to write but just couldn't find the words.
Tea Time For the Firefly – Shona Patel
Ahh. This book. It's a lovely, easy, light read. While there is tragedy and sadness in it, it is softly written (if that even makes sense?). I found myself wanting more afterwards, and although so much happened in the book – it felt like the entire time I was waiting for one big climax that never came. There were many small ones, though, and I think for a lot of people that would suffice. It was a different style, but still a book that will find itself nestled among my favourites.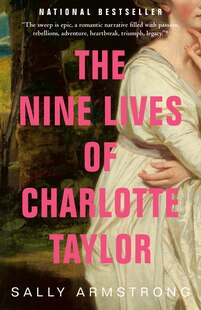 The Nine Lives of Charlotte Taylor – Sally Armstrong
I can't say enough about this book. It is exhausting, emotional, exciting, confusing, and many other things. It's a well written account of a middle class young woman who runs away with her dark skinned (and taboo) butler, and finds herself carrying his child. When he dies, she manages to find her way to Canada, where she settles within a Mikmaq community and eventually in the Canadian Miramachi. It is based on a true story – although, due to lack of records – it isn't a full account of what actually happened in Charlotte Taylor's life. She's portrayed as a grit wielding, immensely strong, resourceful, beautiful and powerful woman in a world ruled by only men, trying to find her footing and provide for her children when the only way to do so is through the very men than suppress her. Truly a great novel filled with sophisticated and subtle feminism and one I'd recommend to anyone.